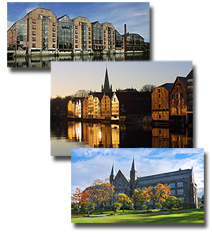 VLDB 2005 Post Conference
VLDB 2005 was the 31st conference in the series of the Very Large Data Bases conferences, the premier international database conference organized every year by the VLDB Endowment. VLDB 2005 took place at the Radisson SAS Royal Garden hotel in Trondheim, Norway from August 30 to September 2, 2005.
On the web pages, you will find the information that was available during the conference. Papers and presentation slides can be downloded from the Complete Program page. Photos taken during the conference are gathered in the Documentation page.
Platinum Sponsors:
Gold Sponsors:
Silver Sponsors:
Local Sponsors: